Banco Santander
Banco Santander is the sister concern of The Santander Group . Which is a Spanish banking group centered on Banco Santander, S.A. It is the largest bank in the Eurozone. It is one of the largest banks in the world in terms of market capitalisation. It originated in Santander, Cantabria, Spain.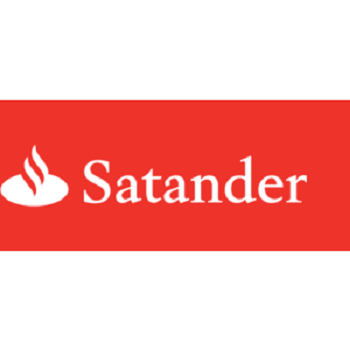 The group has expanded in recent years through a number of acquisitions, with operations across Europe, Latin America, North America and Asia.
In April 2013, Santander was ranked as 43rd in the Forbes Global 2000 list of the world's largest companies.
Formation
Banco Santander was founded in 1857. In 1999 it merged with Banco Central Hispano, which had in turn been formed through the 1991 merger of Banco Central and Banco Hispanoamericano. The combined bank, known as Banco Santander Central Hispano, or BSCH,[5][not specific enough to verify] was designed to be a "merger of equals", in which the top executives of the two pre-existing firms would share control of the merged entity. Soon after the merger former BCH executives accused Banco Santander chairman Emilio Botín of trying to push his own agenda and threatened to take legal action. This post-merger disagreement was resolved when BCH executives Jose Amusátegui and Angel Corcóstegui agreed to accept severance payments, retire and pass control to Botín, at an expense to shareholders of €164M.[5][page needed]
The large termination payouts generated negative press and Botín was eventually brought to trial on criminal charges of "misappropriation of funds" and "irresponsible management." However, in April 2005 the court cleared him of all charges, the €164M retirement payments made to the two former executives were legal, "made as compensation for the services provided to the bank." Also that year, the anti-corruption division of the Spanish public prosecutor's office cleared Botín of all charges in a separate case, in which he was accused of insider trading.[5][page needed]
In 2007 the bank officially changed the official name back to Banco Santander S.A.
Headquarters of Banco Santander in Santander, Spain
Type
Sociedad Anónima
Traded as
·         BMAD: SAN
·         BMV: SANMEX
·         BM&F Bovespa: BSAN33
·         LSE: BNC
·         NYSE: SAN
·         Euronext: SANT, SANTA
·         BIT: SANT
Industry
Financial services
Founded
Santander, Spain
(1857; 161 years ago)
Headquarters
Santander, Spain
Area served
Europe, North America, South America, Singapore, Hong Kong, Africa.
Key people
Ana Patricia Botín
(Executive Chairman)
José Antonio Alvarez
(CEO)
Products
Retail, corporate, investmentand private banking, insurance, asset management, private equity
Revenue
€ 76.526 billion (2016)
Operating income
€ 44.232 billion (2016)
Profit
€ 10.768 billion (2016)
Total assets
€ 1.339 trillion (2016)
Number of employees
193,863 (2015)
Website
www.santander.com
Website: www.santander.com
Source: https://en.wikipedia.org/wiki/Banco_Santander
What is the function of commercial Banks or Modern banks?What is the function of commercial Banks or Modern banks? In the modern world, banks perform such a variety of functions that it is not possible to make an all-inclusive …Bangladeshi Taka

Bangladeshi Taka 1 Taka Note (One Taka Note),2 Taka Note (Two Taka Note), 5 Taka Note (Five  Taka Note), 10 Taka Note (Ten Taka Note), 20 Taka Note (Twenty Taka Note), 50 Taka Note …

UBS AG UBS AG is a Swiss global financial services company. Its headquarter is in Basel and Zürich, Switzerland. It provides investment banking, asset management, and wealth management services for …

Mizuho Financial Group Mizuho Financial Group, Inc. abbreviated as MHFG, or simply called Mizuho is a banking holding company. It,s headquarter is in the Ōtemachi district of Chiyoda, Tokyo, Japan. …

Societe Generale Societe Generale S.A. (SocGen) is a French multinational banking and financial services company. Its headquarter is in Paris. The company is a universal bank split into three main …