SME and Agricultural Financing: Difference of operational Procedure Between Islamic and Conventional Banking
SME and Agricultural Financing : Difference of operational Procedure Between Islamic and conventional Banking
Small and medium Enterprises plays a vital role in the competitive financial market which depends on the managerial skills, product quality, access to technology, and improved marketing skill and appropriate mode of finance. Investment proposals are one of the main steps in investments processing which include all the track records and information of the clients.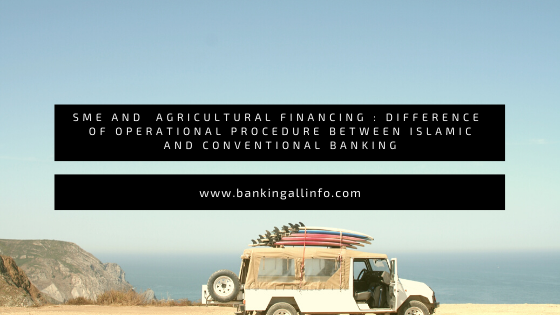 Eligible SMEs
Proprietorship/partnership/private limited company
Source and capacity of repayment backed by positive cash flow
Definite market and the prospect of future expansion.
Adequate infrastructure facility and manpower with required skill and experience.
Sectors of SMEs
Manufacturing:
Enterprise involved in production process viz. food & agro-based, leather, textile, handicrafts, pharmaceuticals, electrical accessories, recycling etc.
Trading:
Enterprises involved in wholesale and retail trading, export, and import etc.
Services:
Enterprise providing services to other persons, organizations, viz.telecommunication, transport,
information technology, clinics, hotel, restaurants, workshops etc.
Management of SMEs
Size wise and sector wise
Some banks conduct SME business under size wise sanction which includes Agriculture sectors. Some banks have agriculture Department with sanctioning power.
Maximum RR under Agro-business is fixed by BB
Eligibility of SME Clients for investment application As per General Policy & Guidelines for Investing SMEs by the Banks, the eligibility criteria for selecting/investing an SME client are listed below:
Physically capable Bangladeshi national;
Valid licenses like Trade License, VAT Registration, TIN etc. NOC from Environment Directorate (as applicable) from competent authority;