Mizuho Financial Group
Mizuho Financial Group, Inc. abbreviated as MHFG, or simply called Mizuho is a banking holding company. It,s headquarter is in the Ōtemachi district of Chiyoda, Tokyo, Japan. The name "mizuho literally means "abundant rice" in Japanese and "harvest" in the figurative sense.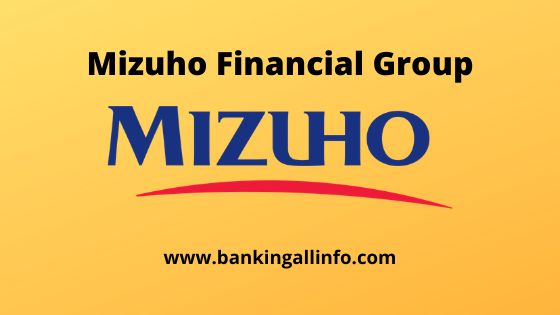 Mizuho Financial Group holds assets in excess of $2 trillion US dollars through its control of Mizuho Bank, Mizuho Corporate Bank, and other operating subsidiaries. MHFG company's combined holdings form the second largest financial services group in Japan. Its banking businesses rank the third in Japan after MUFG and SMFG, and the ninth in the world by market capitalization as of Nov 2009. It is the 59th largest company in the world according to Forbes Global 2000 rankings. Its shares have a primary listing on the Tokyo Stock Exchange.
Mizuho offers a range of financial services, including banking, securities, trust and asset management services.
Mizuho, through its operations in New York became involved in the subprime mortgage crisis and lost 7 billion dollars on the sale of collateralized debt obligations backed by subprime mortgages. Its entry was late, in December 2006; it did not participate in gains; only suffered losses. It is the Asian bank which suffered the most losses due to the crisis. The venture into this field has been traced to the employment of Alexander Rekeda, a specialist in this field hired away from Calyon, a unit of Crédit Agricole. Rekeda was made "head of structured credit in the Americas" where he floated several deals that turned toxic. He was later fired and Mizuho shut down its US CDO business. Examples of these CDOs included the "Aardvark", "Tigris", and "Delphinius" CDOs. The latter two involved the Magnetar hedge fund. Ironically, Calyon had sued Mizuho for hiring away Rekeda and other CDO experts in 2007.
Type
public company KK (a Mizuho Financial Group company)
Industry
Financial Services
Founded
2002
Headquarters
Otemachi, Chiyoda-ku, Tokyo, Japan
Key people
Yasohiro Sato
(President & Group CEO)
Revenue
 ¥1,198,310 million (non-consolidated, FY 2013)
Net income
 ¥445,228 million (non-consolidated, FY 2013)
Number of employees
26,839 (non-consolidated, July 2014)
Parent
Mizuho Financial Group
Subsidiaries
Mizuho Securities
UC Card
Mizuho Capital
Eurekahedge
Website
www.mizuhobank.com
Products: Credit cards, consumer banking, corporate banking, investment banking, global wealth management, financial analysis, private equity
Subsidiaries     Mizuho Bank
Mizuho Corporate Bank
Mizuho Trust & Banking
Slogan     Channel to Discovery
ONE Mizuho
Website     www.mizuho-fg.co.jp
Source: https://en.wikipedia.org/wiki/Mizuho_Financial_Group
Save