International trade transport documents
Models of the main international trade and transport documents ready to use with explanations about what they are and practical advice to complete them.
Trade transport documents lists are given below:
International Proforma Invoice
International Commercial Invoice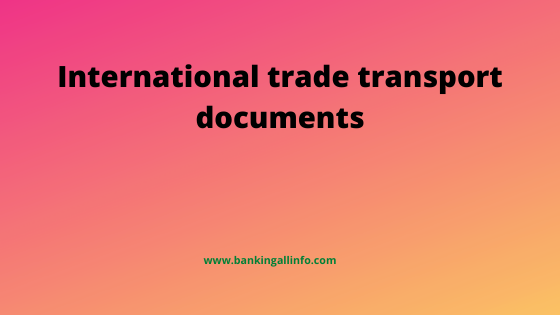 Commercial Invoice
A formal demand note for payment issued by the exporter to the importer for goods sold under a sales contract. It should give details of the goods sold, payment terms and trade terms. It is also used for the customs clearance of goods and sometimes for foreign exchange purpose by the importer.
Packing List
Delivery Note
International Purchase Order
General Conditions of International Sale
CMR Transport Document
Bill of Lading B/L
Air Waybill AWB
Multimodal Bill of Lading FBL
ATA Carnet
Irrevocable Letter of Credit L/C
Cargo Insurance Certificate
Certificate of Origin
Certificates – origin, inspection, and health
Certain destination countries require Certificates of Origin to prove the country of origin of the goods. Many countries give a preferential tariff for products imported from certain other countries. Conversely, countries that boycott goods from certain other countries will seek an undertaking that goods do not break their import restrictions.
The forms are obtained from a Chamber of Commerce and completed by the exporter. The certificates need to be authenticated by a Chamber of Commerce or by the destination country's UK embassy or other representatives, or by both. Getting Certificates of Origin authenticated may take seven working days or more. It may also be a substantial cost to the exporter, and the cost should be anticipated and reflected in quotations.
EU Certificates of Origin are internationally recognized under the terms of the International Convention relating to Simplification of Customs Authorities 1923, under which signatories have agreed to recognize the Certificates of Origin issued by official authorities or other designated organizations. Some countries also require EC certificates to be legalized by their UK embassy or other appointees in the UK.
Arab-British Chamber of Commerce Certificates of Origin are the only certificates accepted by certain Arab countries. Certification is by the Arab-British Chamber of Commerce, and, in some cases, the certificate must also be legalised by the destination country's UK embassy.
Certificate of Inspection
Certificate of Analysis
Phytosanitary Certificate
Kosher Certificate
Halal Certificate
Health certificates, issued by the Department of Food and Rural Affairs (DeFRA), are required for all shipments of agricultural or fresh meat products. Phytosanitary and plant certificates, also issued by DeFRA, are required for exports of planting materials, trees and shrubs, and for certain raw fruits and vegetables.
Related Links:
https://www.letterofcredit.biz/rail_transport_document.html
https://transporteca.co.uk/international-shipping-guide/
https://www.vrtranspoint.fi/en/vr-transpoint/customer-guide/transport-documents/
https://www.globalnegotiator.com/en/international-trade-transport-documents