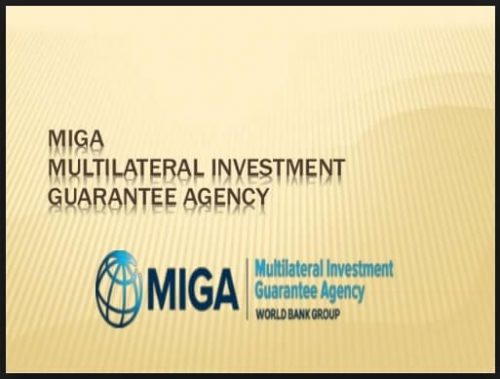 The Multilateral Investment Guarantee Agency (MIGA) provides guarantees against losses caused by non-commercial risks to investors in developing countries.
MIGA is a member of the World Bank Group. Our mission is to promote foreign direct investment (FDI) into developing countries to help support economic growth, reduce poverty, and improve people's lives.
The Multilateral Investment Guarantee Agency (MIGA) is a member organization of the World Bank Group that which ensuring political risk. It was established to promote foreign direct advising governments on attracting investment, sharing information through on-line investment information services, and mediating disputes between investors and governments. And Investment into developing countries of the world.
MIGA was founded in 1988 with a capital base of $1 billion and its headquarter is in Washington, DC. 175 member countries comprise MIGA's shareholders.
MIGA has wide experience in political risk insurance, with a background including banking and capital markets, environmental and social sustainability, project finance and sector specialties, and international laws and dispute settlements.
Mission
1. Providing political risk insurance guarantees to lenders and private sector investors. MIGA's guarantees protect investments against-non-commercial risks and to help investors to obtain access to funding sources with improved financial terms and conditions. Since our inception in 1988, MIGA has issued more than $24 billion in political risk insurance for projects in a wide variety of sectors, covering all regions of the world.
2. To conduct research and share knowledge as part of our mandate to support foreign direct investment into emerging markets. This underscores our position as a thought leader and source of important information for the political risk insurance arena.
MIGA's strategy to play to the marketplace—attracting investors and private insurers into difficult operating environments. It is   ensuring investments in the areas where the greatest difference
•    Countries eligible for backing from the International Development Association (the world's poorest countries)
•    Conflict-affected environment
•    Complex deals in communications and extractive industries, especially those involving project finance and environmental and social considerations
A commission of Governors and a Board of Directors representing to member countries guide the programs and activities of MIGA. MIGA's corporate powers are vested in the committee of Governors, which delegates most of its powers to the Board of Directors. Voting power is weighted according to the share of capital each director represents. The directors meet regularly at the World Bank Group headquarters in Washington, DC, wherever they review and make a decision on investment projects and oversee general management policies.
The World Bank The World Bank was set up in 1944 with an agreement to create post-World War II reconstruction. The World Banks' headquarter is in Washington, D.C. It has more …