International Islamic Financial Market(IIFM)
International Islamic Financial Market (IIFM): Established in 2001 in Manama, Bahrain to develop and regulate an International Financial market bašed on Shari'ah Rules and Principles. IIFM which is based in Manama and hosted by the Central Bank of Bahrain (CBB), was established in 2002 under the Royal Decree No (23) Year 2002 of the Kingdom of the Kingdom of Bahrain as a neutral and non-profit infrastructure development institution, by the collective efforts of the Islamic Development Bank, Autoriti Monetari Brunei Darussalam (formerly Ministry of Finance Brunei Darussalam), Bank Indonesia, Bank Negara Malaysia (delegated to Labuan Financial Services Authority), Central Bank of Bahrain (formerly Bahrain Monetary Agency) and the Central Bank of Sudan.

IIFM works under the guidance of its Board of Directors and with the support of its member institutions. Its main strength is the pooling of expertise from the banks, legal, accounting and other market participants who work together under the guidance of the IIFM Shari'ah Board for the benefit of the IFSI.
International Islamic Conciliation and Commercial Arbitration Centre (IICC):
Established in Dubai UAE in the year 2005 to settle financial and commercial disputes between financial Institutions that have chosen to comply with the Shariah to settle disputes.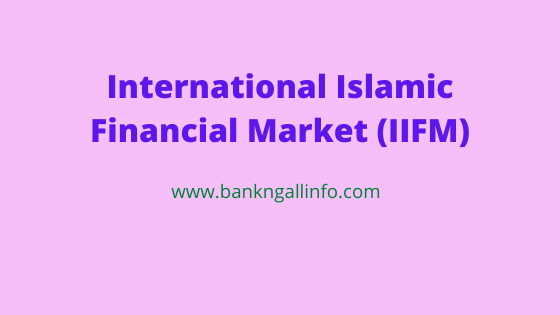 National Islamic Financial Institutions .
I. Islamic Banks Consultative Forum (IBCF).Islamic Banks Consultative Forum (IBCF) has been established on 1st October, 1995 in Bangladesh with the objective of welfare and well being of Islamic Banks and Banks
having Islamic Branches in the Country.
Objectives
The main objectives of the Forum are :
i. To establish effective interaction among all Islamic Banks & Banks having Islamic
Branches/Counters/Offices (hereafter referred to as Islamic Banks);
ii. To foster and strengthen the Bond of Unity and cooperation and a relationship among Islamic Banks in the country based on the Holy Shariah of Islam;
iii. To pursue the common interests of Islamic Banks with Bangladesh Bank, Government, Semi-Government and Non-Government agencies at home and abroad based on laws of the land;
iv. To guide/support the establishment of Islamic Money Market in collaboration with all
Islamic Banks based on the Holy Shari'ah of Islam;
v. To help/establish a Common and Central Shari'ah Board in order that all Islamic Banks
follow Uniform Shari'ah guidelines;
vi. To guide in the establishment of an Islamic Insurance Company with equity
participation from all Islamic Banks based on the Holy Shari'ah of Islam;
vii. To help in the development of new Financial products, Treasury Bonds, Instruments,
Mudaraba Bonds & Certificates by the Government Authorities within the preview of the
Islamic Shari'ah.