Asian Development Bank (ADB)
 ADB is the acronym of Asian Development Bank

The Asian Development Bank established in 1966  to develop to improve the quality of life for millions in Asia and the Pacific. By targeting investments wisely, in partnership with our developing member countries and other stakeholders.
Through investment in infrastructure, health care services, financial and public administration systems, or helping nations prepare for the impact of climate change or better manage their natural resources, ADB is committed to help developing member countries evolve into thriving, modern economies that are well integrated with each other and the world.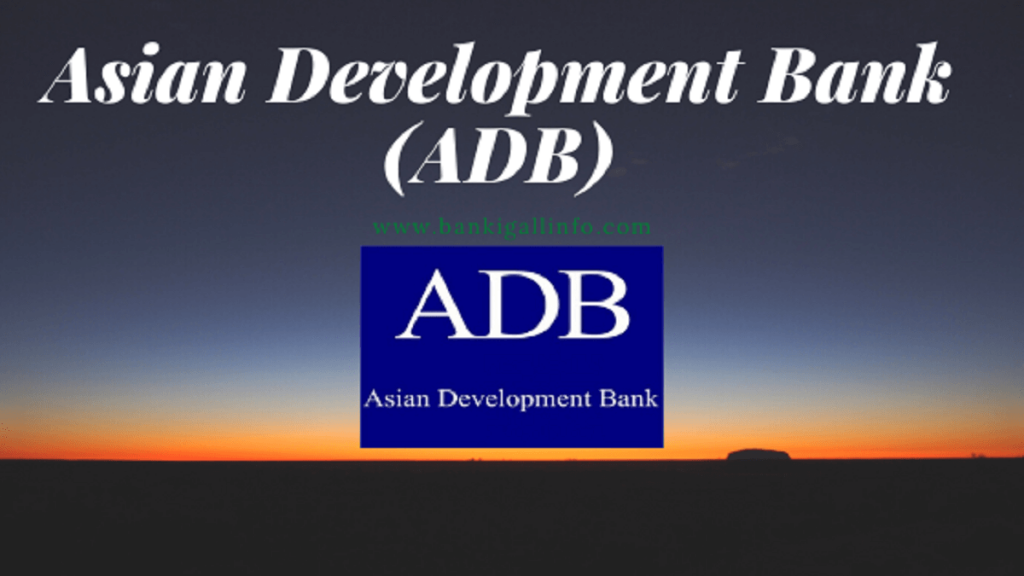 ADB's main devices for assistance are loans, grants, policy dialogue, technical assistance, and equity investments. Hundreds of professions Economists, sociologists, engineers, gender experts and environmental scientists are working together to reduce poverty, and ensure growth across the Asia and Pacific region is sustainable and inclusive.
President: Haruhiko Kuroda

Members: 67; 48 regional members; 19 non-regional members
From 31 members at its establishment in 1966, ADB has grown to encompass 67 members – of which 48 are from within Asia and the Pacific and 19 outside.
ADB Annual Report 2012: Members, Capital Stock, Voting Power.
Regional Members
Members    Year of Membership
Afghanistan    1966
Armenia    2005
Australia    1966
Azerbaijan    1999
Bangladesh    1973
Bhutan    1982
Brunei Darussalam    2006
Cambodia    1966
China, People's Republic of    1986
Cook Islands    1976
Fiji    1970
Georgia    2007
Hong Kong, China    1969
India    1966
Indonesia    1966
Japan    1966
Kazakhstan    1994
Kiribati    1974
Korea, Republic of    1966
Kyrgyz Republic    1994
Lao PDR    1966
Malaysia    1966
Maldives    1978
Marshall Islands    1990
Micronesia, Federated States of    1990
Mongolia    1991
Myanmar    1973
Nauru    1991
Nepal    1966
New Zealand    1966
Pakistan    1966
Palau    2003
Papua New Guinea    1971
Philippines    1966
Samoa    1966
Singapore    1966
Solomon Islands    1973
Sri Lanka    1966
Taipei,China    1966
Tajikistan    1998
Thailand    1966
Timor-Leste    2002
Tonga    1972
Turkmenistan    2000
Tuvalu    1993
Uzbekistan    1995
Vanuatu    1981
Viet Nam    1966
Nonregional Members
Austria    1966
Belgium    1966
Canada    1966
Denmark    1966
Finland    1966
France    1970
Germany    1966
Ireland    2006
Italy    1966
Luxembourg    2003
The Netherlands    1966
Norway    1966
Portugal    2002
Spain    1986
Sweden    1966
Switzerland    1967
Turkey    1991
United Kingdom    1966
United States    1966
Offices:
Headquarters in Manila, Philippines, with 26 country offices and representative offices in Tokyo, Frankfurt, and Washington, DC Founded:1966
Budge t: 2012 Budget
Financing in 2011:$21.72 billion
Regional Members
Board of Directors
Management
Departments and Offices
Policies and Strategies
Partners
The Royal Bank of  Scotland(RBS) The Royal Bank of Scotland(RBS) Group plc is a holding company of a global banking and financial services group. The Company operates in the United …
SoftBank Group Corp. SoftBank was established in Tokyo, Japan, on September 3, 1981. In May 2015, SoftBank was ranked in the Forbes Global 2000 list as the 62nd largest public …
The ING Group (Dutch: ING Groep) is a Dutch multinational banking and financial services corporation Its headquarter is in Amsterdam. Its primary businesses are retail banking, direct …
UBS AG is a Swiss global financial services company. Its headquarter is in Basel and Zürich, Switzerland. It provides investment banking, asset management, and wealth management services…
Mizuho Financial Group Mizuho Financial Group, Inc. abbreviated as MHFG, or simply called Mizuho is a banking holding company. It,s headquarter is in the Ōtemachi district of Chiyoda, Tokyo, Japan. …
Societe Generale S.A. (SocGen) is a French multinational banking and financial services company. Its headquarter is in Paris. The company is a universal bank split into three main …
Banco Santander is the sister concern of The Santander Group. Which is a Spanish banking group centered on Banco Santander, S.A. It is the largest bank …
UniCredit work as the company has its registered office in Rome and general management in Milan.UniCredit's core markets are Italy, Austria, Russia, and Southern Germany. It also …