Societe Generale
Societe Generale S.A. (SocGen) is a French multinational banking and financial services company. Its headquarter is in Paris. The company is a universal bank split into three main divisions, Retail Banking and Specialized Financial Services (particularly in France and Eastern Europe), Corporate and Investment Banking (Derivatives, Structured Finance and Euro Capital Markets) and Global Investment Management and Services.
Based on 2011 data Societe Generale is France's second largest bank behind BNP Paribas and the no. 8 bank in the European zone. Société Générale has been ranked as one of the world's most admired companies to work in.
Societe Generale is one of the oldest banks in France. Founded in 1864.Its original name was Société Générale pour favoriser le développement du commerce et de l'industrie en France (English: General Company to Support the Development of Commerce and Industry in France).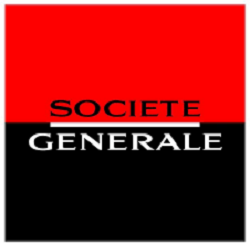 The bank was founded by a group of industrialists and financiers during the second empire, on May 4, 1864.The bank's first chairman was the prominent industrialist Eugène Schneider (1805–1875) followed by Edward Blount, a Scotsman.
The company started to hire employees and establish offices. Coverage of France went ahead at a steady rate. By 1870, the bank had 15 branches in Paris and 32 in the rest of France. It set up a permanent office in London in 1871.
At the beginning, the bank used its own resources almost entirely for both financial and banking operations. In 1871, Société Générale moved into the public French issues market with a national debenture loan launched to cover the war indemnity stipulated in the Treaty of Frankfurt.
In 1886, Société Générale was part of the bank consortium (along with the Franco-Egyptian Bank and the Crédit Industriel et Commercial) that financed the construction of the Eiffel Tower.
From 1871 to 1893, France went through a period of economic gloom marked by the failure of several banking establishments. The company continued to grow at a more moderate pace. In 1889, there were 148 banking outlets, demonstrating the group's capacity to withstand unfavourable economic conditions.
 Type
Société Anonyme
Industry     Financial services
Founded     May 4, 1864; 152 years ago
Headquarters     Boulevard Haussmann, 9th arrondissement, Paris (registered office),
Tours Société Générale, Nanterre/La Défense, France (operational headquarters)
Area served
Worldwide
Key people
Frédéric Oudéa (Chairman and CEO)
Products     Retail, private, investment and corporate banking; insurance; investment management
Revenue     Increase €25.639 billion (2015)
Operating income
Increase €5.681 billion (2015)
Profit     Increase €4.001 billion (2015)
Total assets     Increase €1.334 trillion (2015)
Total equity     Increase €62.675 billion (2015)
Number of employees
146,000 (2015)
Website     societegenerale.com
Source: https://en.wikipedia.org/wiki/