Payza Facilities bank lists in Bangladesh
Payza Facilities bank lists in Bangladesh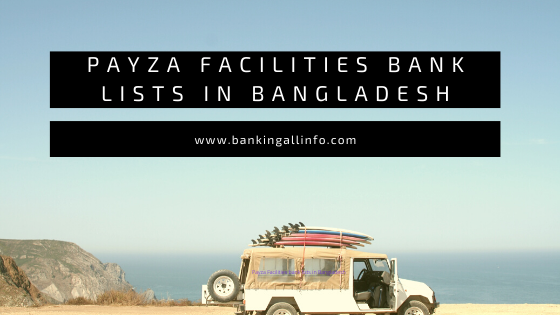 The following banks in Bangladesh facilitate the PAYZA:
AB Bank Limited
Agrani Bank Limited
Al-arafah Islami Bank Limited
Bangladesh Bank
Bangladesh Commerce Bank Limited
Bangladesh Development Bank Limited
Bangladesh Krishi Bank
Bangladesh Samabaya Bank Limited
Bank Al-falah Limited
Bank Asia Limited
Basic Bank Limited
Brack Bank Limited
Citi Bank N A
Commercial Bank of Cylon
Dhaka Bank Limited
Dutch-Bangla Bank Limited
Easter Bnak Limited
Exim Bank Limited
First Security Bank Limited
Habib Bank Limited
Hongkong and Shanghai Banking Corporation
ICB Islamic Bank Limited
IFIC Bank Limited
Islami Bank Bank Bangladesh Limited
Jamuna Bank Limited
Janata Bank Limited
Mercantile Bank Limited
Mutual trust Bank Limited
National Bank Limited
National Credit and Commerce Bank Limited
One Bank Limited
Prime Bank Limited
Pubali bank Limited
Rajshahi Krishi Unnayan Bank
Rupali Bank Limited
Shahjalal Islami Bank Limited
Social Islami Bank Limited
Sonali Bank Limited
Southeast Bank Limited
Standard Bank Limited
Standard Chartered Bank
State Bank of India
The City Bank Limited
The Premier Bank Limited
Trust Bank Limited
United Commercial Bank Limited
Uttara Bank Limited
Woori Bank

Required documents to withdraw money from Payza:
The following two scan copy documents to verify your Payza account from Bangladesh and to withdraw money to your bank account in Bangladesh:
Scan copy of your – National ID Card OR Country ID i.e. Passport OR Driver's License;
2.A scan copy of your last six months bank statement in which you will transfer the money ( example: Dutch Bangla Bank Limited ).
Note: All the documents that you scan to verify your Payza should have your similar Full Name and Address. Otherwise, dissimilarity of your Full Name or Address in any of these three scan copy documents which you attached or uploaded to verify your Payza account would be rejected resulting unverified status of your Payza account.
Initially, Payza takes 4-5 days to transfer money to any Bank in Bangladesh. But  Krishi Bank and  Ruplai Bank Limited will take 10 -12 business days.
Advantages of Payza:
Easy Top-Up Options: Your money, your way! Add and Withdraw funds, by credit card, bank wire or right at the teller, Payza makes it easy!
The Best in Online Shopping: Use Payza to shop at the most popular online shopping websites in Bangladesh. With Payza, you know your payments are secure and your information is protected.
Convert USD to BDT: All USD in your e-wallet can be transferred into Local currency at the current exchange rate.
Hassle-free exchanges
Up-to-date rates
More supported currencies than our competitors
You can send and receive funds in your own currency or in any of our supported currencies for a low 2.5% spread over the daily exchange rate.
Available Country for Payza facilities:
Europe
Bulgarian Lev
Czech Koruna
Danish Krone
Euro
Hungarian Forint
Norwegian Krone
Polish Zloty
Pound Sterling
Romanian Lei
Swedish Krona
Swiss Franc
Macedonian Denar
North America
Canadian Dollar
American Dollar
Mexican Peso
South America
Brazilian Real
Pacific
Australian Dollar
New Zealand Dollar
Asia
Bangladeshi Taka
Chinese Yuan Renminbi
Hong Kong Dollar
Indian Rupee
Malaysian Ringgit
Singapore Dollar
Africa
South African Rand
Fees of Payza