Information of Bank of India
History of Bank of India:
Bank of India was founded on 7th September, 1906 by a group of eminent businessmen from Mumbai. The Bank was under private ownership and control till July 1969 when it was nationalised along with 13 other banks.
Beginning with one office in Mumbai, with a paid-up capital of Rs.50 lakh and 50 employees, the Bank has made a rapid growth over the years and blossomed into a mighty institution with a strong national presence and sizable international operations. In business volume, the Bank occupies a premier position among the nationalised banks.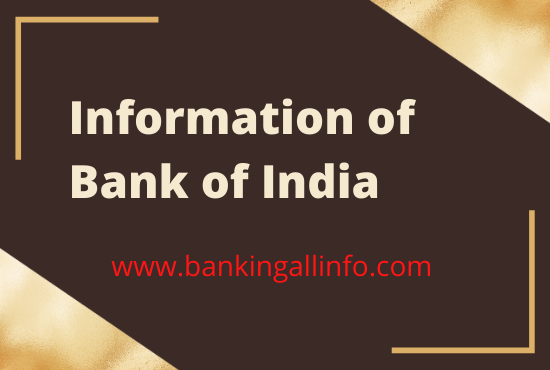 The Bank has over 5000 branches in India spread over all states/ union territories including specialized branches. These branches are controlled through 54 Zonal Offices and 8 NBG Offices. There are 60 branches/ offices and 5 Subsidaries and 1 joint venture abroad.
The Bank came out with its maiden public issue in 1997 and follow on Qualified Institutions Placement in February 2008.
While firmly adhering to a policy of prudence and caution, the Bank has been in the forefront of introducing various innovative services and systems. Business has been conducted with the successful blend of traditional values and ethics and the most modern infrastructure. The Bank has been the first among the nationalised banks to establish a fully computerised branch and ATM facility at the Mahalaxmi Branch at Mumbai way back in 1989. The Bank is also a Founder Member of SWIFT in India. It pioneered the introduction of the Health Code System in 1982, for evaluating/ rating its credit portfolio.
Presently Bank has overseas presence in 22 foreign countries spread over 5 continents – with 60 offices including 5 Subsidiaries, 5 Representative Offices and 1 Joint Venture, at key banking and financial centres viz., Tokyo, Singapore, Hong Kong, London, Jersey, Paris and New York.
 Founded: 7 September 1906; 111 years ago
Headquarters: Mumbai, India
Key people: Dinbandhu Mohapatra (MD & CEO)
Products: Commercial Banking,Retail Banking, Private Banking,Asset Management,Mortgages,Credit Cards.
Owner:  Government of India
Number of employees: 45,613 (2015)
Website: www.bankofindia.com
Contact Head Office:
BANK OF INDIA
STAR HOUSE
C – 5, "G" Block,
Bandra Kurla Complex,
Bandra (East),
Mumbai 400 051.
Ph: 022-66684444
For complaints, please click on link -Grievance Form
For contact details of the Branches/ Zones, kindly visit 'Locate Us' at our Home Page
Due to upgradations and shifting of the call centre, the services are temporarily affected. Please bear with us. You may refer your matters on E-mail ID  mail Due to upgradations and shifting of the call centre, the services are temporarily affected. Please bear with us. You may refer your matters on E-mail ID  mail
For all your enquiries :
Call at Tele No – (022) – 40919191 / 1800 220 229 (all days) 24 X 7
 Corporate:
CASH MANAGEMENT SERVICES
Cash Management Services
PROJECT FINANCE & SYNDICATION SERVICES
Project Finance & Syndication Services
LOANS
Bullion Banking
Export Finance
Channel Credit
Discount Future Cash Flows
Foreign Currency Swing Limit
Exporters Gold Card
Traders
Dual Currency Swing Limit
Rural :
CARDS
Kisan Credit Card
BOI Shatabdi Krishi Vikas Card
Kisan Samadhan Card
Star Bhumiheen Kisan Card
FINANCIAL INCLUSION
PMJDY
Financial Inclusion
FAQS
Pradhan Mantri Jan-Dhan Yojana
SERVICES
Agri Clinics
Cold Storage
Composite Cash Credit
Crop Finance
Farm Mechanisation
Financing for Draught Animals & Carts
Land Development
Minor Irrigation
Poultry Development
Purchase of Land
Rural Godowns
Dairy Development
Financing against pledge of Warehouse Receipt and/ or Hypothecation of Farm Produce
All Purpose Term Loan
Solar Pump Set
Tatkal Loan
Gold Loan
KCC
SMES:
FACILITIES FOR SME BORROWER
Star Laghu Udyami Samekat Loan
Star SME Liquid Plus
Star SME Auto Express
Star SME Contractor line of Credit
Star SME Education Plus
Star SME term loan
Code of commitment to MSME
BOI Star Doctor Plus
Star Start Up Scheme
Star Weaver MUDRA Scheme
Star MSME GST Plus Scheme
Star MSME GST Input Credit Plus Scheme
TReDs
Amendments to MSME Policy
BOI Star Vyapar
PRADHAN MANTRI MUDRA YOJANA(PMMY)
STAND UP INDIA
STATUS OF MSME APPLICATIONS
Status of MSME applications
Status of sick units
POLICY-FRAMEWORK FOR REVIVAL AND REHABILITATION OF MSMES
Policy-Framework for Revival and Rehabilitation of MSMEs
Application to committee for a corrective action plan under Revival and Rehabilitation of MSMEs up to Rs.10 lakhs
Application to committee for a corrective action plan under Revival and Rehabilitation of MSMEs above Rs.10 lakhs and up to Rs.25 crore
 Retail:
DEPOSITS
Savings
Salary
Current
Term
Tax Saving
CASA TERM INSURANCE
CASA Term Insurance
SB Insurance
NOTICE TO SB CUSTOMERS
NOTICE TO CD CUSTOMERS
ONLINE SHARE TRADING
MITC
MITC of SB Accounts
LOANS
List of Retail Business Centers
Housing Projects Approved By BOI
BOI Star Home Loan
BOI Star Smart Home Loan
Star pravasi Home Loan scheme
BOI Star Diamond Home Loan
Pradhan Mantri Awas Yojana newicon
BOI Star Loan Against Property
BOI Star Education Loan
BOI Star Vidya Loan
BOI Star Vehicle Loan
BOI Star Personal Loan
BOI Star Pensioner Loan
BOI Star Holiday Loan
Earnest Money Deposit (EMD) Scheme
BOI Star Top Up Loannewicon
Loan
BOI Star Mitra Personal Loan
BOI Star IPO
Pradhan Mantri Kaushal Rin Yojna (Skill Loan Scheme)
BOI Star Doctor Plus
New Central Scheme for Interest Subsidy(CSIS) as per Interim Budget 2014-15
Central Scheme for Interest Subsidy (CSIS) as per Interim Budget for 2014-15(SINCE CLOSED)
Specimen POA exclusively for Star Pravasi Home Loan Scheme
PADHO PARDESH SCHEME
NRI :
OPENING OF ACCOUNTS
NRI Defined
3 Simple Steps To Open An Accounts
OUR DEPOSIT PRODUCTS
NRI Savings Account
NRI Current Account
Term Deposit
Brief Comparison Of The Schemes
OUR LOAN PRODUCTS
Housing Loan To NRIs/PIOs
Overdraft Against Securities
Loan Against FCNR (B) Deposits
OUR INVESTMENT PRODUCTS
Insurance
Mutual Fund
Portfolio Management Service
OUR ANCILLARY SERVICES
Online Banking
Online Payment Services – BOI Star ePay
My IT Return
Credit Card Payment Through Billdesk
Credit Card Payment Through NEFT
REMITTING MONEY TO INDIA
Modes Of Remittances
How To Remit
List of exchange houses in the gulf
INTEREST RATES ON DEPOSITE
Cards and ATMS:
DEBIT CARD
Master Card
Visa
RuPay
Proprietary
BOI Star Rewards Program for Debit cardholders
Green Pin
CREDIT CARD
Master
Visa
Credit Card Payment
Mediclaim and Personal Accident Insurance
PREPAID CARD
General Purpose Prepaid cards
Visa Gift Card
Visa International Travel Card (US $)
Gift Card Balance Enquiry
HELPLINES
BUSINESS CARDS
BOI EAZY PAY
POS FAILURE REFUND
OTHER KIOSKS
Bunch Note Acceptor (BNA)
Cash Depositing Kiosk (CDK)
Passbook Printing Kiosk (PBK)
ATM
ATM Failure Refund
ATM Do's & Dont's
Free transactions & Charges
List of ATMs Recalibrated and Reactivated