How to Apply for a Bank Job in Bangladesh?
1. Introduction
In Bangladesh, securing a bank job is a dream for many individuals seeking a stable and rewarding career in the financial sector. Bank jobs offer attractive salaries, job security, and numerous growth opportunities. This article aims to guide you through the process of applying for a bank job in Bangladesh, providing valuable insights into qualifications, application procedures, and exam preparation tips.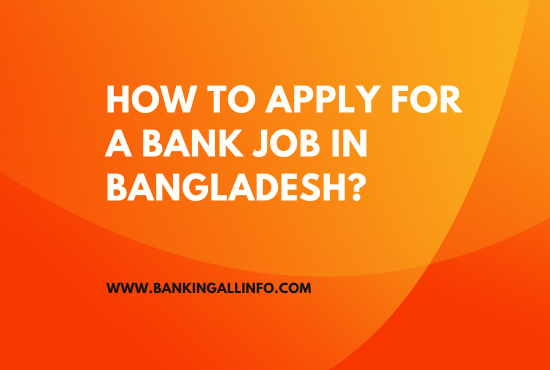 2. Understanding Bank Jobs in Bangladesh
Bank jobs in Bangladesh are highly competitive, requiring candidates to possess specific qualifications and skills. They are available in both public and private banks, offering positions such as probationary officer, assistant officer, cash officer, and many more. These jobs encompass various responsibilities, including customer service, financial transactions, credit analysis, and management.
3. Qualifications and Eligibility Criteria
To apply for a bank job in Bangladesh, candidates must meet certain qualifications and eligibility criteria. Typically, a bachelor's degree in a relevant field such as finance, accounting, or economics is required. Some banks may also consider candidates with equivalent professional qualifications. Additionally, strong analytical skills, computer literacy, and proficiency in English and Bengali are highly valued.
4. How to Prepare for a Bank Job Exam
Preparing for a bank job exam requires diligent effort and systematic study. Start by understanding the exam syllabus, which usually includes topics such as general knowledge, mathematics, reasoning, English language, and computer knowledge. Create a study plan and allocate sufficient time for each subject. Utilize resources like previous question papers, study materials, and online mock tests to enhance your preparation.
5. Applying for a Bank Job in Bangladesh
The process of applying for a bank job in Bangladesh involves several stages. Firstly, keep an eye on job advertisements published by banks through newspapers, websites, or the Bangladesh Bank's official website. Identify the positions suitable for your qualifications and interests. Carefully read the job circular to understand the requirements and deadlines.
6. Filling out the Application Form
Once you have chosen a bank job and verified your eligibility, fill out the application form accurately and legibly. Provide all the necessary personal and educational information, ensuring there are no errors or omissions. Double-check the form before submission to avoid any mistakes that could negatively impact your chances of selection.
7. Required Documents
Along with the application form, you will need to submit several supporting documents. These may include academic certificates, national identification card, passport-sized photographs, and any other documents specified in the job circular. Arrange the documents neatly and make copies if necessary. Keep the originals safe for verification purposes.
8. Online Application Process
Many banks in Bangladesh now accept online applications. Visit the respective bank's website and locate the "Careers" or "Job Opportunities" section. Fill out the online application form as per the instructions provided. Upload scanned copies of the required documents and submit the application. Take note of the application reference number for future correspondence.
9. Application Fee Payment
Some banks may require applicants to pay a non-refundable application fee. Follow the instructions provided in the job circular regarding fee payment. This is typically done through online banking, mobile banking, or by depositing the fee at designated bank branches. Retain the payment receipt as proof of payment.
10. Admit Card and Exam Preparation
If your application is accepted, you will receive an admit card indicating the date, time, and venue of the bank job exam. Download and print the admit card and make sure to carry it to the exam center. Meanwhile, continue your exam preparation by revising the topics, practicing sample questions, and improving time management skills.
11. Bank Job Exam Structure
Bank job exams in Bangladesh usually consist of written tests, including multiple-choice questions (MCQs) and descriptive sections. The MCQ section evaluates general knowledge, mathematics, reasoning, English language, and computer knowledge. The descriptive section assesses writing ability, analytical skills, and comprehension. Familiarize yourself with the exam pattern and practice solving previous year's question papers.
12. Interview and Viva Voce
Candidates who perform well in the written test will be called for an interview or viva voce. Prepare for the interview by researching the bank's background, its functions, recent financial developments, and current affairs related to the banking sector. Enhance your communication skills, dress professionally, and exhibit confidence during the interview to make a positive impression.
13. Final Selection and Appointment
After completing all the selection stages, the bank will publish a final list of selected candidates. If you are among the successful candidates, you will receive an appointment letter specifying the terms and conditions of your employment. Carefully review the letter, respond promptly, and fulfill any additional requirements or formalities as instructed.
14. Banking Job Opportunities in Bangladesh
The banking sector in Bangladesh continues to grow, offering abundant job opportunities. Apart from traditional banking roles, there are positions available in areas such as risk management, treasury operations, IT, marketing, and human resources. Stay updated with job circulars and consider gaining additional qualifications or skills to enhance your prospects in this dynamic industry.
15. Conclusion
Applying for a bank job in Bangladesh requires careful preparation and attention to detail. By understanding the qualifications, application procedures, and exam preparation strategies outlined in this article, you can increase your chances of securing a bank job. Remember to continuously upgrade your knowledge, skills, and adaptability to thrive in the ever-evolving banking sector.
---
FAQs
1. Are there age restrictions for applying to bank jobs in Bangladesh? There is typically an age limit for bank job applications in Bangladesh, which may vary between banks. Most banks set the upper age limit around 30-32 years for general candidates, with certain age relaxations for specific categories.
2. Can I apply for multiple bank jobs simultaneously? Yes, you can apply for multiple bank jobs simultaneously, provided you meet the eligibility criteria for each position. However, make sure you can manage the application process and preparation effectively for all the jobs you apply to.
3. Is prior work experience necessary for applying to bank jobs in Bangladesh? In many cases, prior work experience is not mandatory for entry-level bank jobs. However, having relevant work experience or internships can enhance your application and increase your chances of selection.
4. What are the growth prospects in the banking sector of Bangladesh? The banking sector in Bangladesh offers significant growth prospects. With experience and performance, individuals can progress to higher positions, such as senior officer, assistant manager, manager, and beyond. Continuous learning and professional development contribute to career advancement.
5. How can I stay updated with bank job circulars and notifications? To stay updated with bank job circulars and notifications, regularly check the official websites of banks and the Bangladesh Bank. Additionally, follow reputable job portals, subscribe to their email notifications, and join relevant social media groups or forums for timely updates.