Features of Money Laundering
Money laundering means billions of pounds and dollars a year are laundered through our financial systems. The methods used to launder money are similar whether it's for white-collar crimes such as tax evasion, people/drug trafficking, or proceeds from fraud and internet scams.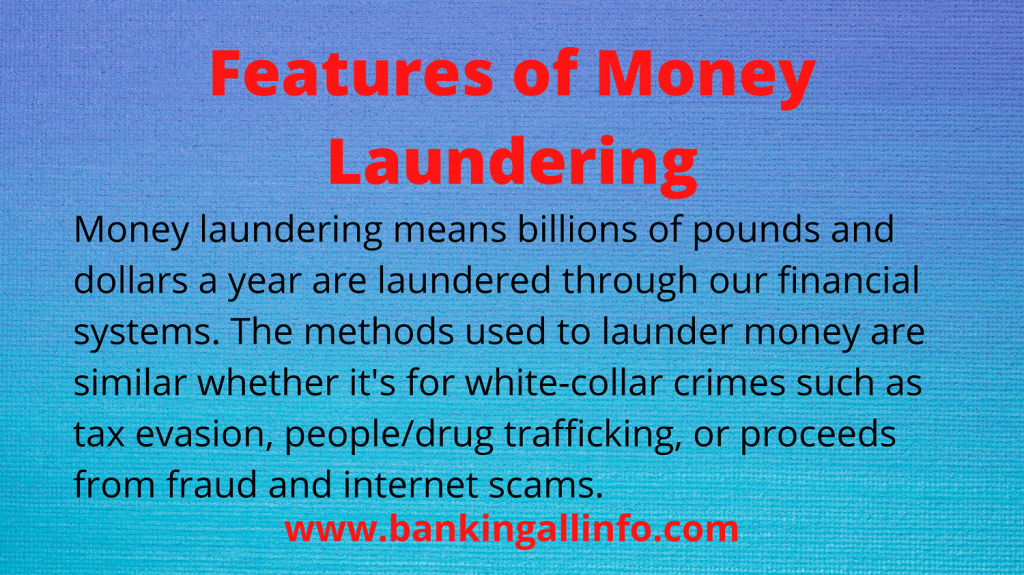 Anti Money Laundering
Anti-Money Laundering (AML) & Combating the Financing of Terrorism (CFT) Compliance of the Bank
In line with Bangladesh Bank (The Central Bank of Bangladesh)'s Policy & Guidelines and strong commitment to comply with the law, The Premier Bank Limited identified the Money Laundering as one of its core risk areas and has been making all-out efforts to prevent money laundering. As per Bangladesh Bank's policy & guidelines, our Bank formed an independent Anti-Money Laundering Division (AMLD) and a Central Compliance Committee (CCC), which is headed by Deputy Managing Director as Chief Anti-Money Laundering Compliance Officer (CAMLCO) who has sufficient authority to implement & enforce corporate-wide AML policies, procedures & measure and who is reporting directly to the Senior Management & the Board of Directors. In addition, He is reporting to Managing Director for his responsibility, co-ordinates & monitors day to day compliance with money laundering laws, rules & regulation. The Bank has a written Anti-Money Laundering Guideline which has taken all control points suggested by Bangladesh Bank to control money laundering and resist terrorist financing.
Money Laundering (ML) and Terrorist Financing (TF) can potentially damage and pose serious threats to the integrity and stability of a financial system. To protect the Banking industry from these threats, the Bank Authority has been working in partnership with financial institutions and BFIU, government departments, and other key stakeholders to put in place an effective regime to fight against these crimes.
The Board of Directors and Senior Management of The Premier Bank Limited are firmly committed to complying with their roles and responsibilities vested under the Money Laundering Prevention Act of 2012 (Amendment-2015) & Anti-Terrorism Act of 2009 (Amendment-2012 & 2013). Money laundering Prevention is viewed as an integral part of the Bank's activities and Risk Management strategy.
Our Bank is committed to complying with the MLP Act 2012 (Amendment- 2015) & ATA 2009 (Amendment-2012 & 2013), Bangladesh Bank Circulars & Instructions, and also other related local and international regulations. Our AML Policy spells out Senior Management's responsibility in Anti Money Laundering Compliance and development of awareness at all levels of the Bank regarding the importance of the Bank's Anti Money Laundering Strategy.
We are aware that financial institutions are particularly susceptible to money launderers; The Premier Bank Limited Strictly follows Bangladesh Bank Guidelines which sets standard controls and procedures to counter money laundering.
All Bank strictly follows:
Know Your Customer (KYC) policy and procedures before onboarding new customers.
Customer Acceptance Criterion- Interview of the customer by Bank Official and review of customer background, profession, etc. to understand the customers and their financial dealings.
Customer Rejection Criterion- Interview of the customer by Bank Official and review of customer background, profession, etc. to prevent illegal or criminal elements.
Documents required for Individual /Corporate Account Open -for identification of the Customer in compliance with applicable laws and regulatory guidelines.
Transaction Profile based on customer source of income.
Address Verification-supporting documents and physical verification for proof of address.
Monitoring existing accounts for unusual or suspicious activities.
Risk classification of accounts and their mitigation.
Reporting suspicious transactions.
Providing training on Anti-money laundering and terrorist financing to all employees.
We emphasize the responsibility of every employee to protect the Bank from exploitation by money launderers and describe the consequence of non-compliance with the applicable laws and the Bank's policy, including the criminal, civil and disciplinary penalties and reputation loss that could arise from any relationship with money laundering activity.
Our Bank strongly believes in making or retaining a relationship with the customers who are involved in legitimate business activities and whose income and wealth are derived from a legitimate business.
Features of Money Laundering