Bank of England prepares first clear break from Brussels – EU rules torn apart!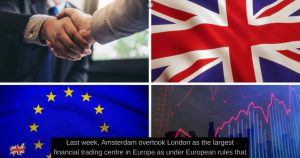 The bank o England is preparing to tear up the EU rulebook as Brexit Britain begins to re-shape the financial sector.
Regulators have outlined proposals to diverge from the European  Unions' rulebook as stricter EU roles stop banks being as competitive regarding how firms' capital levels are measured.
BoE governor Andrew Bailey suggested the UK would move away from the existing rules during a speech last Wednesday. He insisted the current EU policy gave a "false picture of a banks' loss-absorbing capacity".
Following a meeting on Friday, the Bank of England prudential Regulation Authority said it found no credible evidence that software assets can absorbs losses effectively in stress".
A source told the financial Times: "It is staggeringly improbable when a bank gets into difficulty that those investments will have a realisable value. "
The banks were lobbying them on this, arguing they needed to be liberated to invest in IT, defend themselves from fintech's and complete with big tech and Americans Banks." It convinced the European political machine, but not us."
The shift away from EU rules comes amid a row over wider financial regulations between UK and Brussels.
The European Union has refused to grant equivalence to the City of London following the end of the Brexit transition period in January.
The lack of an agreement for City traders means US Banks wanting to buy European stocks are no longer be able to trade via London until a deal is in place.
An estimated 5.7 billion pound worth of deals shifted overnight to the EU- including additional fees.
Last week, Amsterdam overtook London as the largest financial trading centre in Europe as under European rules that pre-date Brexit,
EU shares traded in Euros must be traded on EU exchanges or in countries with special "equivalence" status, which the EU have held back from the UK so far.
The Uk and Brussels are currently working towards a March Deadline to finalise an agreement on equivalence.
However, BoE chief Mr. Bailey said; "The EU has argued it must better understand how the UK intends to amend or alter the rules going towards. This is a standard that the EU holds no other country to and would, I suspect, not agree to be held to itself. It is hard to see beyond one of two ways of interpreting this statement, neither of which stands up to much scrutiny."
He added, I am afraid a world in which the EU dictates and determines which rules and standards we have in the UK isn't going to work.
Source: https://www.youtube.com/watch?v=eeUhWStII6I
Bank of England prepares first clear break from Brussels