Alternative Delivery Channels in banking
What are delivery channels in banking?
Delivery channels include branches; field officers; automated teller machines (ATMs); payment terminals; point-of-sale devices; mobile branches; mobile phones; and internet banking (e-banking)
Alternative Delivery Channels in Banking Sector:
Alternative Delivery Channel (ADC) means that channels which act as intermediaries between bank and customer and leads to expand movement and execution of banking services. These channels may be media, tools or any application through which customer can perform their banking operations. From banks point of view these Alternative Delivery channels will help bank to reach wild range of customer across the country. Also banks get higher points with lower operational and transaction cost. Digital banking and electronic banking are the most performing area of this Alternative Delivery Channel (ADC). With the help of these alternative delivery channels in banking sector, all the banks try to bring the banking service to every individual with object to provide 24×7 banking and providing banking system to unbanked.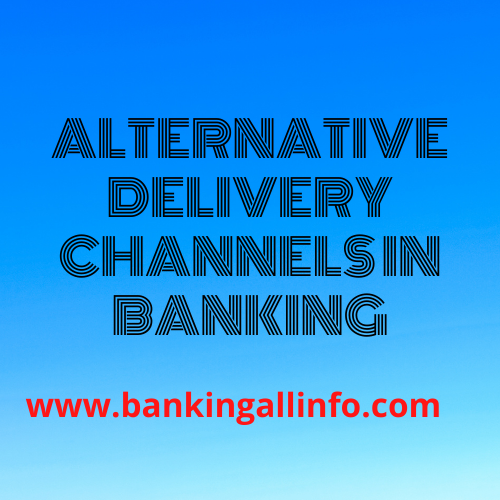 Different Types of Alternative Delivery Channels in banking Sector:
Now a day most of the customers are moving out of branch banking to other channels. Considering the use of internet, smartphone and mobiles provides suitable options for online purchase which encourages customer to use online banking facilities. Using these channels customer can do his banking transaction from his home, office and any other place. All the channels are contributing to increase productivity of banking system.
The alternative delivery channels in banking sector includes-
Internet Banking
Mobile Banking
UPI –Unified Payment Interface
E-Wallet
ATM Card, Debit Card and Credit Card.
There was a need for alternative delivery channels in banking sector to properly handle the scattered banking products and services that were not in a particular stream. Hence all banks have decided to deliver all these alternative delivery channels to their customers. Keeping all this things in mind we can use all these alternative delivery channels in banking sector to carry out our financial operations in easier manner.
Internet Banking:
In simple way internet banking is nothing but use of banking facility on your computer or mobile with the help of internet. It is considered as modern form of banking. Internet banking is a complete online banking system itself and facilitates you to do all banking operations setting at your home. It also help you to transfer your fund or make bill payment from any were at home.
What are the uses of Internet Banking?
By internet banking customer can avail all banking facilities. Here are some uses of internet banking-
Reduce frequent visit to branch: As internet banking makes the banking transaction at your finger tip, it reduces frequent visit of bank branch.
Fund Transfer: It allows you to transfer fund from your own account to others account as well as to your own other bank account.
Online account opening: Through internet banking you can open new saving account, fix deposit, RD PPF account as well as Demat account online to invest in the shear market. Also you need not to deposit required documents in bank as the bank representative visits your home and complete the documentation process.
Utility Bill Payment: You can pay all your daily utility bill online like light bill, gas bill, mobile and dish TV recharge etc.
New Cheque Book Request: Now ordering new cheque book has become easy through internet banking. Using this you can request new cheque book for your account with one click.
Easy to monitor transactions in account: It allows you to monitor the ongoing transactions in your account. You can also extract account balance and statement of account
 Others: It also used to make online purchase and payment, request any other banking facilities from the bank, payment of income tax, online DD and you can register any complaint online. The other uses include collection of information about your loan and other accounts, life insurance, auto insurance and other online services as well as purchasing product.
How to start Internet banking?
Now you know what internet banking is and how it is useful. You must be thinking how to activate it. To activate internet banking you have to do following things –
It most important to visit branch and update your Email and mobile number in your account.
First you have to fill the application form then you will receive net banking kit from bank which contain your user ID and password.
With the help of this ID and password you can login to website or banks app. When your login done, you have to change your login password for your safety.
This will activate your net banking now you can take the advantage of this banking facility.
Tips for using Internet Banking facility:
While using internet banking you should have to take following precautions so as to safe your account –
Regular change your login ID and password for your account
Don't shear any detail of your account with any other. Bank will never ask you for any detail through phone or email.
Avoid login through cyber cafe or any other organizations computer.
Mobile Banking:
Mobile banking is most popular method of banking, which assists you to initiate the banking operations on your mobile phone. All banks are providing their mobile banking application to their customer. You can use mobile banking for instant fund transfer, payment of bill, view account balance etc.
At the time of demonetization when the banks were crowded mobile banking was the first preference from people for cashless transaction. In the view of this change and need for cash, the present Prime Minister Shri Narendra Modi appealed people to increase digital transaction under Digital India. People also responded and mobile banking got a new impetus from demonetization. Mobile banking is considered to be simpler and more convenient method than any other method of transaction.
Use of Mobile Banking:
Compare to online banking mobile banking is considered to be easy and safe. Following are the services available with mobile banking –
Easy to access account information: This is the primary service provided through mobile banking. Thus with the app available in your mobile you can better manage your fund. With mobile app you can view your account balance, your transaction history, get e-statement i.e. your loan statement or credit card statement.
Fund transfer: this is most used and in demand facility available with the mobile banking. You can transfer fund by just adding the beneficiary or by UPI (Unified Payment Interface). This fund transfer include – fund transfer to self or bank to bank fund transfer, third party fund transfer like rent payment , standing instruction to loan or other accounts, fund transfer through NEFT, RTGS/IMPS /MMID etc.
Other Services: opening of deposit account like SB/CD/FD and RD accounts investment in mutual funds, Bill payments, login your complaint, queries or suggestions, tracking your complaint. It also provides facility to order new cheque book, cancelling or stop payment of cheque etc.
Precautions while using Mobile Banking:
As compare to online banking, mobile banking can lead to more phishing or fraud. Hence keeping safety of customers all banks have comes up with some important tips for secure mobile banking.
While using mobile banking set PIN or password to open app.
To receive banking transaction alert register your mobile number and email Id in account. If both are not updated since long, see it is updated.
Do not open any URL in the mobile massage, unless you sure.
If you are going to repair your mobile or let someone use it, first you have to delete browsing history, clear cache and delete temporary file from your mobile. This is because detail of your account may be saved in these files.
Do not save any important information received from your bank on mobile.
Link mobile anti-malware or antivirus software to your smart phone.
Never use auto fill option. Do not save your ID and password any were in the mobile.
Enable more feature on your mobile like encryption enabled, remote wipe and location tracking.
UPI – Unified Payments Interface:
Deliberate efforts are being made at the government level to promote alternative delivery channels in the banking sector. Due to the complexities in the use of internet banking and mobile banking the use of these alternative delivery channels in the banking sector has been limited to few people. Due to this simple methods like UPI and Bhim have been made available to the customers by the Government of India in the form of Mobile Banking. UPI is real type system of payment developed by NPCI (National Payment Corporation of India) and controlled by RBI and Indian Bank Association. UPI is a multi-banking system through which customer can not only transfer money but also send request for money. To use UPI, the customer has to create his own UPI virtual ID (payment address) therefore; this UPI ID can be easily identified by another transferor.
How does UPI work?
UPI is a digital platform and allows you to instant transfer of fund from one account to another via your mobile. As it is real time instant transfer system takes very less time than NEFT. While instant transfer IFSC Code, mobile number and virtual Id should have to be correctly mention. The four digits MPIN is used for confirmation of each transaction thus increase the security of the transaction.
How to set up UPI?
Here are the some steps to setup and generate virtual ID in UPI –
1st Step: You have to download and install your banks UPI app through Google pay.
2nd Step: Fill required bank detail in your app like selection of preferred language, SIM card number registered with bank account, set your Four digit MPIN, link your account number etc.
3rd Step: To verify your account, verify the OTP received from your bank.
4th Step: This verification will authorize your identity and generate your Virtual ID.
This will complete your registration process and you can send or request for money to be transferred. More than one bank account can be linked with your UPI. You cannot link your mobile wallet to your UPI only bank account can be linked.
Maximum limit on transfer of money under UPI:
The maximum limit for transfer under UPI as decided by NPCI is Rs. 1.00 lakh per day. But as advised banks can decide there sub limit, hence you should cheque banks web-side or contact branch to know the sub limit of your UPI.
E-Wallet:
In today's age of smart phones, young generation is preferring e-wallet instead of their ATM and Debit card. E-wallet has become a great option for cashless payment. E-wallet is also known as Digital wallet and it is electronic software or online service that allows you to transfer fund electronically to other. It also facilitates storage of entire information of your bank account and reduces the need to enter account detail at the time of online payment.
For this, the customer has to install the e-wallet application and link it with his own bank account, after which the customer can make any type of payment through that wallet.
How much money can be deposited in e-wallet?
If the customer does not want to link his bank account to wallet, then he can use the option of cash deposit. Most companies have a cash deposit limit of Rs. 10000/ – but as per RBI instructions, this limit is increased to Rs100000/- if the customer uploads his KYC in this wallet.
Types of E-wallet:
Closed wallet: In this case, if you return the product to a company, the company deposits the money of the product in your close wallet. This money cannot be spent by you but the money is used only to buy other products of the same company.
Semi closed wallet: In this wallet you can neither deposit nor withdraw money but this money is used to pay for the purchase of any company's product.
Open wallet: In this type of wallet you can deposit money as well as withdraw money. The wallet is linked to your bank account and such wallets are given to the customer by the banks. The biggest advantage of this wallet is that if you return an item to the company, the company immediately deposits your money in your bank account.
ATM, Debit card and Credit Card
Now a day's plastic money becomes more popular among the younger generation. This plastic money includes ATM card, debit card and credit card. These cards are also known as payment card that every financial institution issues to their customer. Plastic money is mainly used for online transactions. These cards are most commonly used alternative delivery channels in banking sector. These cards allow cardholder to transfer money electronically from there account and also help to complete the payment transaction at the time of shopping.
Benefits of Debit Cards:
Help in planning and budgeting: Payment done through this card gets cleared instantly. This helps you to know the how much amount is left in your account and helps you to restrict or plan your expenses.
More Secure: This card provide security of money, as no one can use your card without knowing your PIN. Also this card provides facility of OTP on your mobile which secure your transaction. Recently the addition of EMV chips in this card provides additional security.
Rewards on Transactions: As we know while transaction by using credit card you get reward. To increase cashless transaction now all banks have included debit card in this reward program. This rewards you get is based on how you have done your transaction. It excludes your PIN based transaction.
You don't have to pay any interest on debit card based transaction done as the card is linked to your account, instantly your account gets debited.
How the ATM card, Debit Card and Credit Card differ from each other?
In this digital era, all financial institutions offers card based transaction to their customer. Under this people do there transaction by using alternative delivery channels in banking sector like ATM Card, Debit Card and Credit cards. As per there usage they are differ from each other. Let's know here, what are the basic differences in these three cards?
ATM card: With this card, the customer can only withdraw money from the ATM machine. This card does not have any kind of logo like Master, Visa or Rupay. As this card is linked with the customer's bank account, he can withdraw only the amount available in the account. The customer cannot use this card anywhere other than just ATM machine.
Debit card: The debit card is linked to the customer's bank account and has the Visa, Master and Rupay logo on it. This card is used for depositing and withdrawing money and at the place where debit card is accepted, the customer can complete his transaction by swap of debit card.
Credit card: This card looks like a debit card and has a company logo on it. Credit card is not issued on behalf of customers account on behalf of debit card. Each bank charges customers a certain amount each year in exchange for a credit card. This card gives the customer a limit to use every month. This limit has to be repaid within a specific time period. If the customer is not able to repay on time, it affects the customer's CIBIL report.
https://www.allbankinginfo.com/2020/10/alternative-delivery-channels-in-banking-sector.html#
BENEFITS AND PROSPECTS OF ADC PRODUCTS IN BANGLADESH
Benefits
Convenient transactions, minimum transactions cost, staying connected to the customers at any place, faster delivery of information from to customers and financial service providers, innovative products or service at minimum fees, and minimizing queue problems are the major benefits and services and clients can enjoy these services through using different ADC products (Gonzalez et al., 2008; Brodie et al., 2007; Beer, 2006;Cooper, 1997). Alternative delivery services offer a perfe ct opportunity to the financial service providers for minimizing costs (Luštšik, 2004), and cost minimization increases company profit.
Prospects
There are 67.245 million internet users, 129.584 million mobile phone subscribers, 10+ millions active in social media in Bangladesh (Rahman, 2017; BTRC, 2017). Eight million which is less than 10 percent of the adults can transact electronically today in Bangladesh. In addition to this, less than one percent of daily purchase happens electronically in Bangladesh, and average 16 percent of daily purchase happens globally (Varma, 2016). So, it can be said that there is huge opportunity in Bangladesh to adopt and diffuse IT based banking because the usage level of computer, smart phone, internet, social networks has been increasing every year (Amin, 2017).
https://ibtra.com/pdf/journal/v14_n1_article4.pdf
The role of Alternative Delivery Channels (ADC)
 Traditionally, banks and other financial institutions deliver services to  customers through branches, where it's possible to physically perform operations like opening accounts, deposit and withdraw cash, apply for loans, etc. However, to reach the unbanked, banks need to adapt their products and services, their communication and, more importantly, their delivery strategy. For unbanked consumers, a branch can be located many kilometers away from his or her home; this prohibits access to many who might need it due to time and transportation costs to reach the nearest branch.
This is why it is critical for banks to have low cost and easily scalable channels to efficiently address the unbanked. These channels are the so-called Alternative Delivery Channels (ADCs): they include all the ways of serving customers outside of physical branches and are often enabled by technology:
Alternative Deliver Channels are strategic for banks and other DFS providers, as they enable:
reduced operating costs – branch costs are much higher than any ADC improved client convenience – enabling access to financial services nearby or locally exploration of new market segments (low-income segments)